S&S Sales and Leasing is a reputable company with the knowledge and experience you can trust when you are looking for a Used Locomotive for sale and Used Locomotive Parts for sale. We offer RTO, Rebuildable Cores, and Outright purchase on our inventory of locomotive components. Below is some of our inventory. Give us a call and let us help you find the locomotive or locomotive part you are looking for. Our inventory always includes Prime Movers, Main Generators, Auxiliary Generators, Wheel Sets, Traction Motors and many other vital component to keep your railroad moving! Call our professional staff today!
Please contact us for all of your rail car needs.

---
50 ft Flat Car available, has been used for track construction and maintenance. The deck is wood and needs some repair. Year Built2-1939 Load limit 128,400, LT WT 44600

---
36" 48" and 54" Locomotive Engine Cooling fans for sale. 36 horse power just removed from SD40 Locomotives. Good RTO's Part Numbers 8310416 8324128 2804505 9518888 735560 8296483 64L68 9517833 9528718 For more information or details about these locomotive engine cooling fans, please...

---
16-645-E1 Prime Mover available as Re-qualified or RTO.

---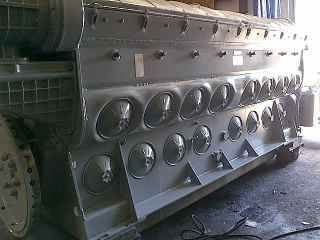 16-645E Prime Mover Fully Re-qualified available outright or UTEX. Ready for immediate shipment. This Prime Mover has been sold, but we can locate one similar to it Contact one of our Locomotive Sales Professionals today

---
D32P Main Generator Fully Rebuilt Available for Immediate Shipment UTEX Only